Missions can be Tours Too
There is a lovely little church in Corpus Christi with a lovely name, Our Lady Star of the Sea. It sits almost alone, tucked away just north of the Aquarium across the big bridge and surrounded by the construction of the even bigger bridge. I knew it was there, and like all good tour guides, I wanted to share it, and its story, with my friends.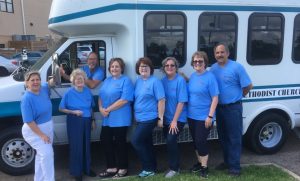 A small group of us had gone down to South Texas on a mission trip to help one of the many Harvey victims. Our assignment was to help #MariaAyala and Mia (her Chihuahua) of Refugio repair her home. She had been waiting for months, and had finally gotten help from two other Methodist mission groups.
We arrived for a week-long stay but had to drive back and forth to Refugio. We worked hard to sand walls, paint rooms, (and scrape drips of paint off floors), fix doors, scrub floors, repair screens, and replace everything. By the time we got done, the house was looking very nice, if I do say so. We, on the other hand, looked pretty ragged.
I must mention one of our team members.
On the right is 80+ year-old Gradylene Pate holding Mia, the dog. She is the widow of a Methodist minister and has lived all over Southeast Texas. I had heard stories of her and had seen her in action everywhere at the church, but I had never seen her at work at an unairconditioned, mosquito-infested, sweltering South Texas job site. She put all of us youngsters to shame. She saw what needed to be done and did it, without complaint, without asking, and without help. All while staying cheerful and pleasant. A real inspiration to us all.
After we were done with the job, we were rewarded with a half-day off to explore Corpus Christi. I insisted on taking our team to find the little church that dated back to the 1880s. I'm a history nut, as you've guessed.
We had driven around the Aquarium but couldn't seem to find the church. I stopped a kindly police officer and asked if he knew of it. After some thought, he gave us a police escort right to the church.  By even better good luck, we found the church maintenance man around back and he let us into the church, He even turned on the air conditioning for us.
I arranged all my buddies in the pews and launched into the history of Petra Vela, Luis Vidal and Mifflin Kenedy. No, nothing to do with Gore Vidal or John Kennedy.
Petra was a young ranch girl who had fallen in love with a Mexican Lieutenant named Luis Vidal. He was serving in Matamoros in 1842 and was assigned to help in retaking San Antonio after the Texas Revolution. Although they did capture some of the residents of San Antonio, the overall mission of Luis' military unit failed. Texas stayed an independent republic. And Petra appears in the census records with two Vidal children.
Over the next ten years, as Mexico was plunged into the violence of the American invasion of Mexico (1846-48), Petra fled the American troops, moving farther and farther west to distant Durango. Somehow, Luis followed her. She had six more children by him.
Digging through the military archives in Mexico City, I learned that meanwhile, however, Luis had married Manuela Andrade y Castellanos in southern Chiapas. In comparing the dates of the births of her three sons with Petra's eight children, it appeared that Luis was having very fond farewells with Petra in northern Mexico, and very fond hellos with Manuela in southern Mexico, all within ten or fifteen days of each other, evidently sailing both ways.
By 1850, the records indicate that Luis had died in Veracruz, leaving both Manuela and Petra without support. Manuela used the silver conchos on Luis' Mariachi outfit to survive, while Petra may or may not have known that Luis was gone. Petra took six of the eight kids and crossed to the newly Americanized Brownsville.
Meanwhile, Mifflin Kenedy had recently arrived in South Texas. As a steamboat captain, he had partnered with Richard King to supply American troops during the Seminole Wars in Florida in the 1840s and again in Texas during the Mexican-American war. The two men had become wealthy, and had become fascinated with the rich, grassy ranch lands in South Texas. There cattle were free for the taking and land was plentiful. Both settled in South Texas and began acquiring lands from the local Mexican families.
Did Mifflin need a housekeeper? Or, as the Kenedy family would have it, did he fall in love with the beautiful wealthy widow of a Mexican general who came across the border with sacks of gold under each arm? I think he needed a housekeeper. She soon had the first of Kenedy's children. Being a proper Pennsylvania Quaker, with a second child on the way, Mifflin made an honest woman of Petra and married her in 1854. She went on to have six more children, a life-time total of sixteen children.
While they lived in South Texas, Petra, a staunch and determined Catholic, insisted that Mifflin pay for bells for the Brownsville church. He did, and those bells are still there today. When the couple moved to Corpus, Mifflin built her a beautiful home on the bluff, sadly no longer there. The Corpus Christi cathedral stood just down the road from their home. Once again, Petra insisted that Mifflin contribute to the church. Because of Mifflin's wealth, the couple donated two twelve-foot high stained-glass windows by Tiffany. One is dedicated to Mifflin's father, the other to Petra herself.
Several years later, after Petra's death, the church burned down. The stained-glass windows, thank goodness, were saved. Although the town built a new cathedral, the remains of the small church were not lost. The church was moved across the river and rebuilt.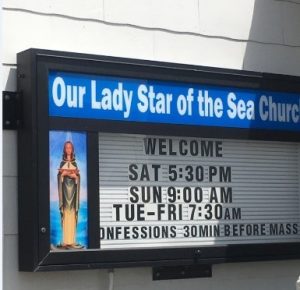 As I finished my story, my friends were able to enjoy those beautiful Tiffany stained-glass windows which are, today, behind the altar of the church of Our Lady Star of the Sea. It is likely that few people who see them know the story behind them, but at least now you do.
If you are ever in Corpus Christi, take a drive across the big bridge and search out the small church. If the maintenance man is around, ask him to see the windows. They are worth the price of admission. And now you know. . . the rest of the story.