Now is your chance to be part of San Antonio's 300-year-old history. Even if you have seen the missions before, this year is a unique opportunity to learn more than you ever thought possible on our Spanish Missions tour. Check out our new web site www.HistoricToursofTexas.com.
This is the 300th anniversary of the founding of San Antonio. It is a perfect time to do much more than just visit the missions, the museums, the town itself. I promise to give you insights into the lives and times of the people who lived there. The three-day tours are a perfect chance to really explore the San Antonio and the Spanish Missions. You too can revel in the 300 years of history while enjoying delicious breakfasts and relaxing evenings discussing the days' tours.
If you have been to the Spanish Missions around San Antonio, you know how awe-inspiring the structures are. Have you ever studied the structures closely? Consider that they were built by the local natives under the supervision of just a couple of first, Jesuit, and then Franciscan priests exactly 300 years ago.
Study the rock walls. Look at the arches. Think about chipping the rocks, one at a time, finding just the right one to fit into place. Think about getting the rocks to stay in place without concrete. Look at the height of the bell towers. The architectural construction is incredible.
Several years ago, my students and I tried to build a stone fireplace to replicate one that had existed on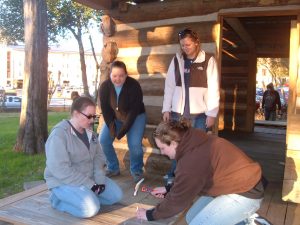 the Roberts-Farris log cabin that we had moved onto the town square. How hard could it be? Just stack up a bunch of rocks. Our very pathetic attempts failed miserably. We couldn't find rocks the right shape. They wouldn't stay in place, even with concrete. The walls wouldn't stay upright. It was pretty awful, I can tell you!
We finally had to beg help from one of the prison inmates to help us finish the fireplace. Needless to say, it broke my heart when the owner of the property refused to leave the cabin, and its beautiful fireplace, on the town square. The fireplace was torn down after less than a year in place.
Amazing to think that those missions could just as easily have disappeared over the centuries. The local residents could have stolen all the rocks for their own homes. That they didn't and that the missions are still there, is a testament to the people who still inhabit the area.
Come join us. I promise, there is not a better Spanish Missions tour in all of Texas! I guarantee it! www.HistoricToursofTexas.com