It's all about balance.
Recently, as Robots and competitions to produce a good one become more popular, I've seen clips of two-legged robots struggling to walk. Inevitably, they fall over in spectacular falls. They try to lift a foot to step up onto a platform. Slowly, they begin to tilt backward, their weight shifting, and finally, CRASH! Down they go with a clanging clatter.
Unhappily, elderly humans often fall the same way. Canes, even three-footed ones, don't help. Even two canes, one in each hand, create a staggering, ungainly gait that is painful to see. As we see our loved ones coming down the hall with their canes, we watch with mounting anxiety. We wait, tension rising, holding our breath as they wobble toward us, our hands outstretched to help them, just in case.
Once the tilt starts, however, the fall is sure to come. Big, brawny, Emergency First Responders may be able to catch them, but we are often helpless, our parents' weight too much for us to handle. And then it's broken hips and wheel chairs and surgeries and rehab.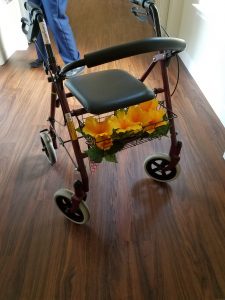 Enter the Rollator. Or Walker with wheels. These ingenious devices have sturdy handlebars with brakes, a seat and perhaps a basket or container underneath, and four solid wheels. The front two wheels swivel while the rear two are securely aimed forward. As long as walking, even unsteadily, is an option, have your elderly parent grab hold of that sucker, and you are good to go.
Unlike a wheel chair, the Rollator does require the ability to walk. And perhaps that is a good thing because it encourages exercise. By holding onto the handles and leaning on the sturdy metal frame, our elderly can move along quite successfully.
While my husband was out with open heart surgery, he ordered a bright-red Rollator from Walmart. The prices, as he found out after exploring the web, vary from $59 to $649. He got the least expensive one and it has turned out to be perfectly good. No need for the Cadillac version which I am still unclear on how or why it is more expensive. Better chrome wheels? Fine Corinthian leather? Glittering gold handles? Whatever, he didn't get the Cadillac version.
Once he was through with it, my 98-year-old mother arrived for her summer sojourn. For years, Mom has been using canes. We've tried giving her three-legged canes. Adjustable canes. Folding canes. Brightly colored canes. Invariably, she forgets them in the bathroom. Leaves them behind the door or in the closet or in the other room. Without them, she has fallen constantly. Nothing daunted, she hops back up immediately. Fortunately, she really does have strong bones and hasn't broken anything, yet.
A little background: 98-year-old Mom and her 87-year-old husband, Al, regularly—and every year for the last 40 years—get tired of each other and separate for the three summer months. Mom shows up on either my doorstep or my brother's and moves in. She mourns and complains and wishes for Al, certain she won't see him again. But, nope, he always shows up again in October and off they go to Florida.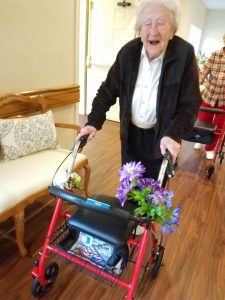 Now that Mom is in lock-down, however, we became aware of the popularity of the Walkers. In her very lovely Retirement Community (which she still despises), everyone has Walkers. I brought the Rollator over to her from home and, slowly, she has become accustomed to using it. It truly is a wonderful tool for the elderly. Even the feeble and fragile, if they can walk, are able to make their way slowly down the long halls to the dining room or to the activity room.
Now the problem is identification. I took Mom into the dining room with her bright red Walker. Her seat-mate at table demanded to know if that was her walker. I assured her it was not. Hers is maroon. Mom's is red. And there are blue ones, too. But they are all similar.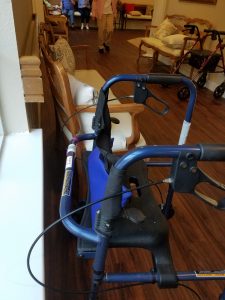 Enter the silk flowers. I went to Walmart and bought white roses and purple something-or-anothers and stuck them into the handles on her Walker. Others have used hibiscus in their baskets. The variety of flowers and colors is legion, constrained only by the availability of made-in-China silk flowers at Walmart.
Others tie pretty embroidered, heart-shaped stitchery to their handle bars. One dangled a stuffed tiger to her "tank." The men, more averse to flowers, put small American flags on their walkers. One creative individual, as I mentioned in a previous blog, found a stringer of small paper fish to attach to his walker. The variety and individuality is amazing.
The kind Dining Room staff get to know the Walkers and their owners. Residents are encouraged to walk all the way into the dining room with their walkers. Mom frequently forgets and leaves her walker in the hall. She staggers precariously across the dining room to her table. It  scares the wait staff half to death and they have cautioned me to encourage her not to do it.
They assure her that they will take her walker back out to the hall to park it with the others in a long line. Hers stands out because it has more flowers than anyone else's. When the residents are through eating, the staff bring the walkers back.
Since I was sitting at Mom's table chatting with evidently nothing to do, her seat-mate demanded I fetch her walker. And make sure it is the right one, she said. Yes, ma'am. I did. I brought both hers and Mom's and pointed out the difference in flowers so she could see Mom wasn't stealing her walker.
Walker Wars haven't started, yet, that I know of. But the potential is there.