I didn't realize that racism is rampant among the Latin American nations.
Racism, according to Merriam-Webster's dictionary, is a belief that race is the primary determinant of human traits and capacities and that racial differences produce an inherent superiority of a particular race. A second definition suggests that racism leads to prejudice and discrimination.
As I see it, the current swirling hatreds aren't just about race. They are about any differences that separate people. Unhappily, history provides us with far too many examples of hatred against others. Can people be educated to learn that others, of whatever race, color or creed, can become friends? Is racism and its attendant hatred and violence inevitable? Why do people find a reason to hate each other?
Hatred exists everywhere. Can we convince the Baptists to participate in the Journey Through Bethlehem when the Mormons are involved? It seems religious hatred is alive and well in spite of the current saying "What Would Jesus Do." February is Black History Month, but there is still an immense gulf between blacks and whites.  Even something as simple as a silly (sorry, I know I'll get busted for that) Superbowl football game results in violence. And never mind the hatred between Democrats and Republicans that is destroying our country.
To my amazement, at a meeting of the Institute of Hispanic Cultures last week, the presentation by the two young Spaniards on Sancho Panza and 'Back to Barataria' devolved into a rather vehement discussion of racism. The Spaniards had been trying to find someone in the neighborhoods they visited who spoke Spanish and could discuss the naming of the streets after Cervantes' characters. They had a hard time.
At first, the discussion focused on racism against Hispanics in the United States. Many in the audience contributed their stories of discrimination, poor treatment and hatred from so-called 'whites.' They blamed it on the belief among white Americans that their race is superior to all others. Never mind that Hispanics, too, can claim to be 'white' or Caucasian. At least that part of us that doesn't have Mexican Indian blood mixed in.
Soon, however, the discussion turned to the problem of racism from different Hispanic nations against each other.  It had never occurred to me that Bolivians, Chileans, Costa Ricans, Salvadorans, Nicaraguans, and so on, would despise each other. The dance instructor, who puts on dance recitals of Hispanic dances, said that if groups from one country came to perform their country dances, those from another country refused to participate. I was flabbergasted.
As several of us stood chatting afterward, I asked about these antagonistic attitudes of fellow Hispanics against each other. Why, for goodness sake? In the case of Argentinians, it seems that their arrogance and attitudes of superiority rub their neighbors the wrong way. The pacifist and army-less Costa Ricans don't like the flood of Nicaraguans coming in to take jobs and commit crimes. Peruvians don't like their Chilean neighbors, Colombians don't like Venezuelans, and so forth. The list went on and on.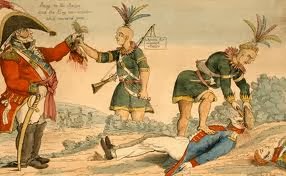 Usually there is some basis for the antagonism—a difference in beliefs, a difference in lifestyles, a difference in customs. But often the hatred can be blamed on something as simple as an accent. Ask the opposing gangs of Salvadoreans and Mexicans in Huntsville today. Each of them speak a slightly different accented Spanish.
I wish someone would offer a solution. I know I can't.