Mexican Independence and what does that have to do with The Spanish Missions tour?
It occurred to me, after sharing the wonderful #BattleofMedina symposium with the many friends from #AtascosaCounty, that #MexicanIndependence day was probably not celebrated in San Antonio until long after 1821. In particular, those who might be tempted to celebrate September 16th and Father Hidalgo's call for Independence in 1810, were mostly massacred by General Joaquin de Arredondo as rebels and traitors to the Spanish crown! That was one of the reasons that Austin and the Anglos were invited to come settle Texas. Little did the Spanish and then Mexican government know what they were getting into!
Still, there is no reason why we can't visit the missions and tour the magnificent Presidio and Mission complex at Goliad, along with the other missions. All too often we tend to forget about Goliad in our focus on the five missions in San Antonio. I promise, I'll help you understand the complexities of the history that led to the founding, moving, secularization, and restoration of the missions.
And to help you learn about the descendants of those early settlers who still live on lands granted to their great-great-great grandparents along the river. Who knew they were still there?
So this is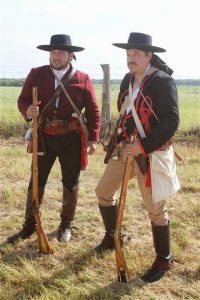 an invitation!  If you've heard me speak, you know you are in for a treat when you join our Historic Tours of Texas.  Intimate, 8 to 10 guests, three-day tours to fascinating places, great meals and lovely B&Bs.
The first one, Spanish Missions, is scheduled for September 14 through the 16th of September (of course, in honor of Mexican Independence), Learn about the presidios, missions and villas that first dotted Texas. Remember, the cost of $895 covers everything – transportation, lodging, meals and museum entry.
The next one, focusing on Austin's colonies, will be September 20-22, and the exciting Sam Houston's Life and Times will launch on Wedesnday Sept 26 – 28. It's easy to sign up at our new web site www.historictoursoftexas.com. You'll have a wonderful time, I guarantee it!