I'm going to have to learn to laugh more. The ability to laugh at ourselves is a talent we don't practice nearly enough.
Last night, Mom staggered across the floor looking like a Laurel and Hardy cartoon and caught herself on the chair to keep from falling. She burst out laughing, just guffawing and snorting and chortling with mirth. "Getting old is so funny!" she said. "Don't you think so?"
Umm, errr, no, I thought, trying hard to smile. As a caregiver, I find it terrifying.
At the pool, coming back from swimming, we got into the courtesy van from the car dealership. Mom was fumbling to get into the van since it was an unfamiliar vehicle. Now, looking back, I'll admit, it did look a little like Charlie Chaplin slapstick.
First the cane caught sideways in the door. Then leaning her head in, she nearly fell headlong into the van. Trying to lift her foot in, she missed, over and over again. Finally she realized she had to turn around and sit down on the seat to get her feet in. Backing slowly in, she nearly sat down on the running board instead of the seat. When she was at last safely in and I had clipped the seat belt, she began snickering and finally just roaring with laughter. I didn't.
I worry when she charges headlong down the airplane gangway, staggering faster and faster on the downward slope. Fortunately, the stewardess caught her. Mom, of course, broke into giggles. I get upset when she tries to paint the lawn chair and leaves it streaked and raggedy. She laughs uproariously. She puts the toast in the oven to broil and burns it because she is talking to my sister on the phone. More laughter!
My younger sister who comes to take care of her every now and then will laugh with her, enjoying the humor. Makes me feel a little like the Smothers Brothers, "Mom always liked you best!" I'm afraid my glum demeanor is depressing for Mom. I know it is to me.
Maybe I need to adopt my sister's relaxed attitude. But the fear of Mom falling and hurting herself is always present in my mind. And not funny at all. Would my mother find even falling humorous? Probably.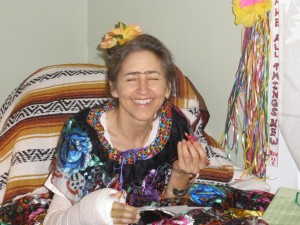 Maybe I should, too.