Wouldn't you know it? No sooner does Historic Tours of Texas have not one, but two, tours booked and ready to roll on trains, 60 Minutes comes out with an article on the dangers of train travel! Gee, thanks!
For the first of the tours, the Copper Canyon to Cabo expedition, eight of us will set forth on Wednesday for a full day riding the CHEPE train from Chihuahua in Western Mexico to the coast at Los Mochis.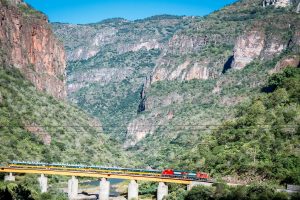 Fortunately, the Chihuahua al Pacifico (that's where they get CHEPE) train has just been repaired and renovated. The train and the tracks are owned by Ferrocarriles de Mexico, a government subsidiary, which depends on tourists as well as local travel for its survival. Unlike the United States, many Mexicans use public transportation and depend on it. Because of the demand, the government spends its money and its resources on keeping transportation affordable, safe and comfortable.
Europe, too, emphasizes the effective and efficient rail system that criss-crosses the continent and even connects island England to mainland France via the Chunnel. Anyone who has visited Europe has had a chance to enjoy the speed and on-time dependability of the rail system. I've had the pleasure of riding in a first-class train, with stewardesses, blankets, pillows and meals from Seville to Malaga for all of $17. Fast, comfortable and always, always on-time.
In the United States, on the other hand, our country intends to maintain its focus on gasoline and the internal combustion engine. Good for oil-rich Texas, bad for the country. Railroads are only grudgingly paid for by the government. Amtrak, like CHEPE, is a government subsidized system.
The rails, however, are owned by a variety of different companies, most of them profitable freight lines, who apparently do their best to keep their rail lines in good repair. At least one hopes so, considering the astronomical costs paid by the freight lines for use of the tracks. Where Amtrak pays only a few thousand dollars a day hauling passengers, the freight trains, carrying everything from gravel and coal to new cars and Chinese shipping containers, pay hundreds of thousands of dollars A DAY to use the tracks.
According to Leslie Stahl's 60-Minutes article, ten years ago the government mandated that all trains be equipped with PTC, or Positive Train Control. It is a system that helps control the speed of trains by automatically braking a train when it is exceeding the safe speed for the tracks.
Last year, a wonderful guard  stayed with us during our lengthy wait for the train. For three hours he regaled us with information about the trains and the rail system. Our train had been delayed by a misaligned track and had been halted by its digital sensors before anything bad happened. There are, it seems, all sorts of safety features on the tracks–when they work. Sensors on the trains can sense an unaligned track and halt the train. Evidently, the PTC system, when it is installed, works well also. The problem is the high cost of upgrading the trains. Safety, one would think, should have no cost.
Here in Texas, we have yet another group hoping to put in high-speed rail service from Houston to Dallas. A couple of years ago, a Spanish company was planning to install the TransTexas Corridor. It was to be a train that my husband and I found out was planned to –literally—come through our living room. We live out in the country, and railroad builders see all of those wonderful open ranch-lands and figure why not put a rail line through here? Ranch owners, however, object. Strenuously. They killed the TTC.
Now another company is trying again. A journalist for the Wall Street Journal wrote that rail lines in the US will never work. No one wants to give up their land to have bullet trains going speeding through their cattle pastures. If we can't even fix the tracks we do have, how are we going to get new, modern rail lines in the future?
Meanwhile, our courage clutched in both hands, our Western Forts tour will set out on the Sunset Limited to Alpine in April. If we are fortunate, the sensors, the PTC, and the rails will all hold together long enough to get us there and back.
I have faith. And Insurance.